I am a convert – now, I believe in the power of intention.  This is an unusual story about how music and dance and love of ethnic diversity made its way back into my life.
I used to be all about goals and getting real specific on what I wanted and how I intended to carve the path to get there – and that worked most of the time, yet it had a restrictive quality to it.  Can you feel it? I can even feel it as I write this. The power of intention works differently, maybe in a softer, more mysterious way.  This story illustrates it.
Last year, I was talking with an old friend, with whom I enjoyed lots of ethnic dance classes when we were in our 20′s. We had many fun and funky times together. Many years later she is still dancing, cutting up the dance floor with her Samba steps.  She asked me if I was still dancing.  Sheepishly I admitted, "Well, if you count shaking my hips as I walk down the hall with my laundry basket – then yes, I am dancing!"  When I heard that I had to ask myself, "How is she's still dancing and I'm not – when I love it just as much?"  Then quietly, behind the scenes of my thinking mind, I set my intention to be open to the energy of dance and music.  That's when it began to unfold.
One of my sons, Aaron, plays awesome drums in a teen band program, Plugged In.  While planning their January 2006 concert, Plugged In made contact with the Music Crossroads Southern Africa project who aims through a combination of music, self-awareness and HIV/Aids education, to empower African musicians to build a self-sustainable cross-border youth music structure in the Southern African Development Community. Music Crossroads contacted Plugged In to see if there was interest in having one of their new bands, Bongo Love, come to Boston for a cultural exchange with Plugged In students. Bongo Love was participating in a music festival in the Dominican Republic in October - and was able to stop by Boston area on their way from Zimbabwe to the Dominican Republic.
The genre of music Bongo Love plays is called "Afrocoustics", a unique combination of styles delivered on traditional instruments. This arranged stop in the US was a major treat for them!  Little did we know of the bonds that were in store for us.
Almost immediately we connect on a deep level with the Bongo Love musicians left to right, Themba, Trymore, Godfrey and John.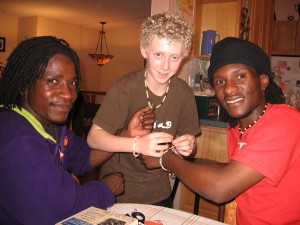 The deal is sealed as Aaron, ties home-made friendship bracelets on Trymore's (L) and Godfrey's (R) wrists.  During their weeklong stay they fill our hearts and home with music and dancing! After they left we maintained a strong connection.
In January 2007, Plugged In was contacted by Hannah Wahl, a young woman from Seattle, who had recently traveled to Zimbabwe with a marimba band in which she played. While in Zimbabwe, she met Bongo Love, and fell in love with their music. She decided that when she returned to the states, she would bring Bongo Love here for a tour. Through the combined efforts of Hannah and Plugged In, Bongo Love was granted a performance visa with enough donated frequent flyer miles to make the trip to Boston….in time to surprise Aaron at his Bar Mitzvah and perform at his party on May 5th, the day after their arrival.
"Grace" appears to be at work when on that SAME day when Bongo Love was invited by the Elias Fund to perform at the Elias Fest, a day-long fundraising concert in Acton, MA. Chad Urmston, of Dispatch, who was performing at the concert with State Radio, invited Bongo Love to join in on one of the band's songs. The crowd went crazy – they left a lasting impression.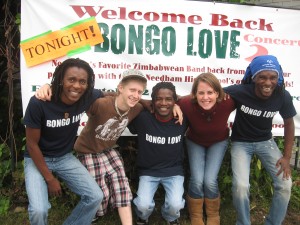 Bongo Love's US tour included stops in several cities including New York City. The stop in New York City coincided with the dates of the Dispatch reunion concert, Dispatch: Zimbabwe, on July 13, 14 and 15, 2007. Dispatch was interested in having a Zimbabwean band perform at the concert. Bongo Love, already here and scheduled to be in New York, was the perfect fit. Bongo Love was invited to a Dispatch rehearsal in New York. Dispatch offered Bongo Love the opportunity to perform on all three nights of the DISPATCH: ZIMBABWE – LIVE AT MADISON SQUARE GARDEN sold-out concerts.
Our goodbye last year before they returned to Zimbabwe was an exuberant hugging
backstage at Madison Square Garden after we watched their performance with Dispatch. "Goodbye, Jewish Mother- we love you!"- were their departing words.
All coincidence?  I know don't know.  What I do know is that we are planning a fundraiser to bring them back again.  I am also taking a Hip Hop class and cross my fingers, so far, my body has agreed to come along for the ride. Although the oldest in class, I feel like a teenager again.  AND this week I was asked to bring some Afro-Caribbean FUNK into the upcoming International Coaching Federation's New England conference.
Here's to the power of intention!